Automation
PDF Snake can automate your complicated imposing processes. Record a multi-step process so you can replay it with a single click.

Drag multiple files at once to batch process.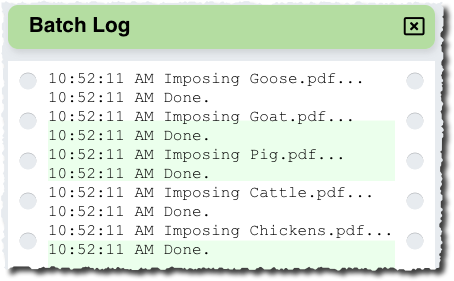 Command-Line Interface
Advanced users and programmers can use PDF Snake's command line tool to integrate PDF Snake into their printing pipeline. The command line tool is licensed separately from the PDF Snake web application.
PS C:\> pdfsnake -h PDF Snake Beta Copyright 2002-2022 Rennie Glen Software, LLC See https://pdfsnake.app/ USAGE: pdfsnake.exe [SUBCOMMAND] FLAGS: -h, --help Prints help information -V, --version Prints version information SUBCOMMANDS: help Prints this message or the help of the given subcommand(s) impose Impose PDF, PNG, and JPEG files. PS C:\>
Next
How to Automate PDF Snake Tutorial